JRW Realty Closes $13 Million Transaction on a Hannaford Grocery in Massachusetts
Published: March 31, 2022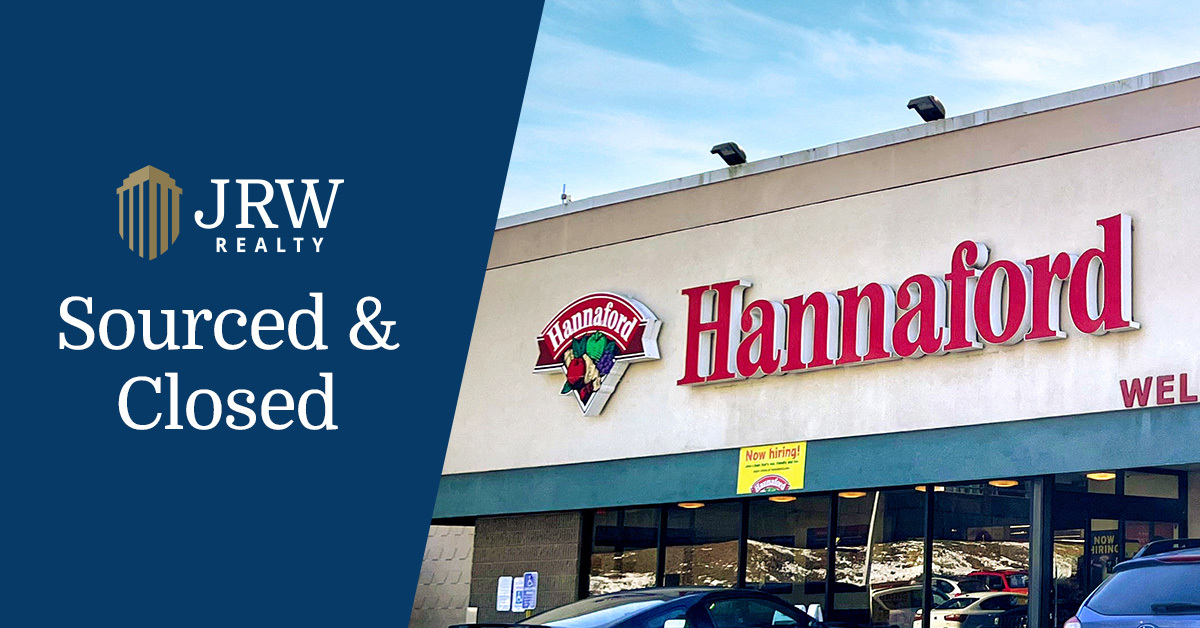 PASADENA, Calif. - JRW Realty is pleased to announce that it has facilitated the transaction of a $13 million, 42,293-square-foot single-tenant net-leased property occupied by Hannaford Grocery in Gardner, Mass.

The transaction continues JRW Realty's strategy of sourcing and aiding in the closing of individual net-leased properties backed by essential businesses. To date, JRW Realty has sourced and closed on more than 875 properties on behalf of its clients, with total values surpassing $3.4 billion.

"One of our buyers' key criteria is stable tenants, such as pharmacies and grocery stores," said Melinda Marston, president of JRW Realty's single-tenant net lease division. "Hannaford Grocery has 180 stores, including 150 that provide pharmaceutical services, and their strong operations make them exactly the type of tenant that our buyers want to include in their assets under management. We're proud of helping them acquire this property on a timely basis and at contract price."

The transaction was facilitated by JRW Realty real estate advisor Leanna Tatikian under Marston's guidance. NNN Investment Advisors represented the seller.

In accordance with increased demand, JRW Realty's clients have streamlined their processes, enabling them to complete deals in as few as 28 days from contract to closing. JRW Realty's relationship-based approach to net-lease-focused real estate has empowered the firm to source over 15 million square feet of property for its clients.
About JRW Realty
JRW Realty is a commercial real estate brokerage firm that has closed over $3.4 billion in transactions on behalf of its clients. JRW Realty's team places special focus on due diligence, reviewing over 100 properties each week and only choosing to source for clients the best 3-4% according to their rigorous acquisition criteria. For more information, visit www.jrwrealty.com.
Single-Tenant Net Lease Sourcing Contacts
Melinda Marston, President - STNL
CA DRE #01950977
melinda@jrwrealty.com
(626) 696-2910

Leanna Tatikian, Real Estate Advisor
CA DRE #02059296
leanna@jrwrealty.com
(626) 720-1819

Multi-Tenant Retail Sourcing Contact
Joel Staffilino, President - Multi-Tenant Retail
jstaffilino@jrwrealty.com
(513) 227-4502

Media Inquiries
press@jrwrealty.com