JRW Realty Facilitates Purchase of Two ShopRite-Anchored Shopping Centers in New Jersey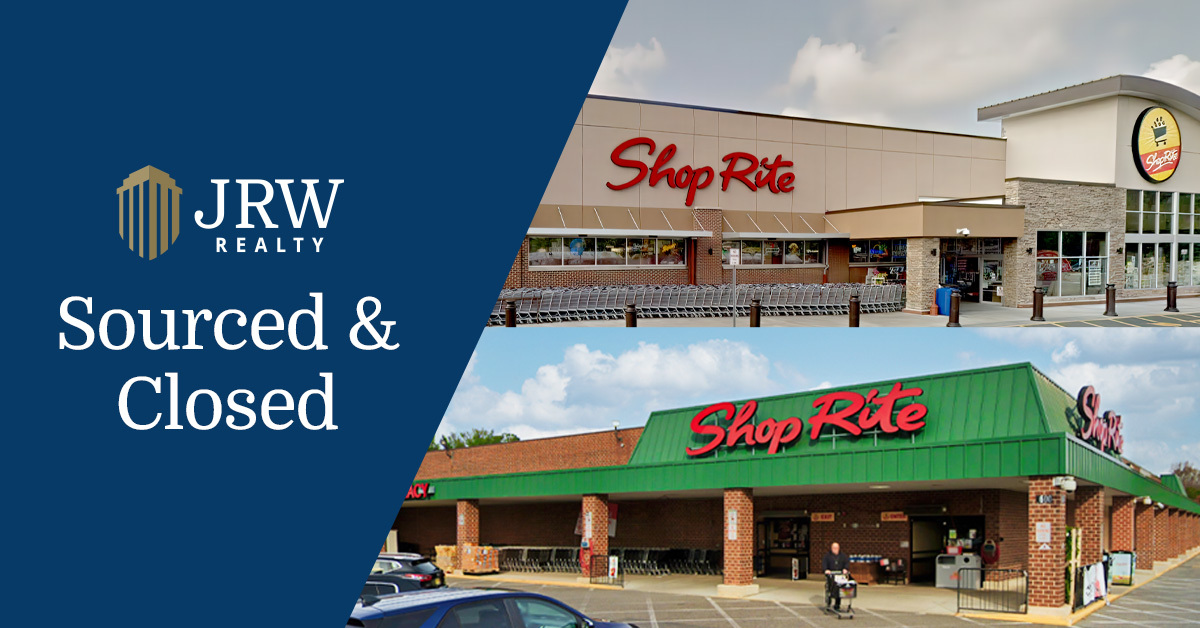 PASADENA, Calif. - JRW Realty, a commercial real estate brokerage that focuses on sourcing net-leased properties on behalf of institutional clients, is pleased to announce that it has facilitated the purchase of two New Jersey grocery-anchored shopping centers on behalf of one of its exclusive institutional buyers.

The ShopRite-anchored shopping centers are located in Upper Deerfield Township and Vineland in southern New Jersey and add more than 175,000 square feet of commercial property to JRW Realty's institutional buyer's collection of real estate assets.

Melinda Marston, co-president at JRW Realty, guided and successfully closed the transactions on behalf of the firm's client with the help of JRW Realty's industry partners.

"No one does anything alone in real estate, and we've been fortunate to work with so many dedicated industry associates," Marston said. "We're proud of the relationships we've cultivated, because as times get more and more challenging, we can rely on those relationships to overcome obstacles in the market."

Marston added that JRW Realty's client's purchase of these assets is an example of their continued efforts to strategically acquire net-leased properties occupied by high-performing, creditworthy tenants that provide grocery, medical, and other necessity-based goods and services. She also pointed out that her client's strong balance sheet, clear acquisition criteria, and streamlined closing processes enable it to close deals in as few as 28 days.
About JRW Realty
JRW Realty is a commercial real estate brokerage firm that has closed on more than 1,100 properties valued at more than $4.6 billion on behalf of its clients. JRW Realty's team places special focus on due diligence, reviewing over 100 properties each week and only choosing to source for clients the best 3-4% according to their rigorous acquisition criteria. For more information, visit www.jrwrealty.com.
Media Inquiries
press@jrwrealty.com