JRW Realty Sources $54.10 Million of Net-Leased and Grocery-Anchored Assets in July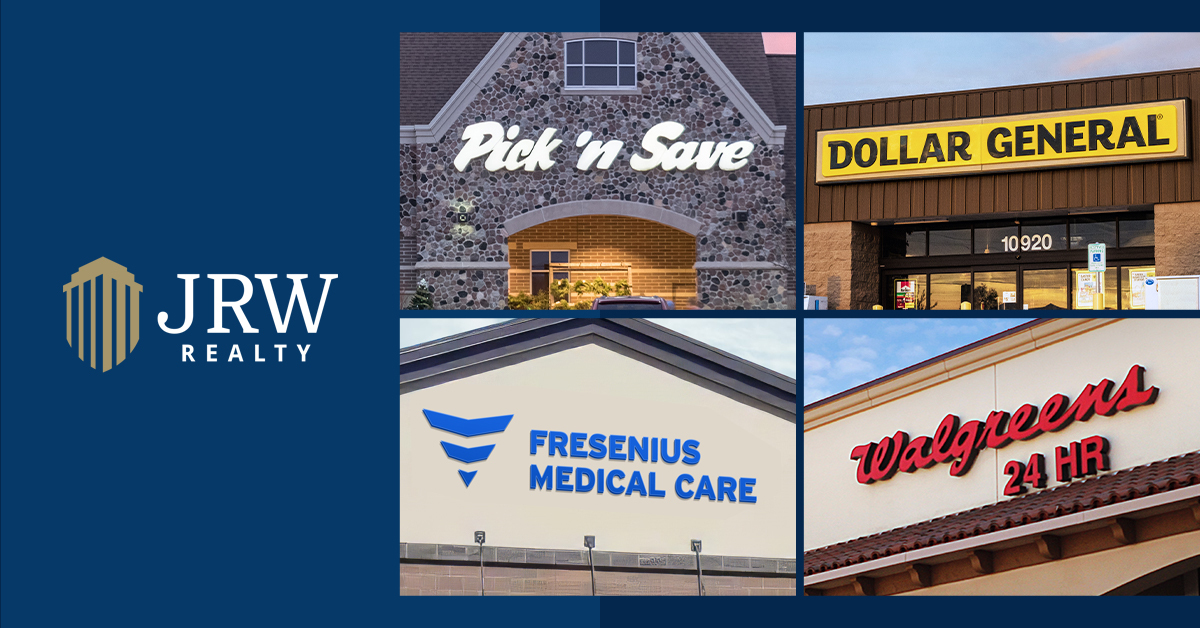 PASADENA, Calif. - JRW Realty is pleased to announce that in July the company facilitated the all-cash acquisition of over $54.10 million in property on behalf of its clients. The 12 properties sourced are tenanted by national companies that provide essential goods and services, including Pick 'n Save, Dollar General, Fresenius Medical Care, Walgreens, and CVS. The properties sourced by JRW Realty collectively span 227,186 square feet and are located across 10 states, including California, Texas, and Georgia.

JRW Realty focused on sourcing single-tenant net-leased properties and grocery-anchored multi-tenant shopping centers, in order to meet the acquisition needs of its clients. For each of the properties sourced in July, JRW Realty's buyers closed at contract price without a financing contingency. From inception to date, JRW Realty has closed over $2.8 billion in transaction volume on behalf of its clients.

"We are pleased to have maintained a healthy transaction volume last month as we work to serve our clients' pressing acquisition needs," said Joel Staffilino, president of multi-tenant retail. "As of July 31, we have closed on acquisitions of over 2 million square feet of properties throughout the country in 2021, and we are on pace to help our clients achieve over $800 million in net-leased-focused acquisitions this year."

JRW Realty is exclusively engaged by large, all-cash buyers that are actively seeking to acquire additional grocery-anchored multi-tenant shopping centers and individual net-leased properties backed by essential businesses with investment-grade credit. The clarity of JRW Realty's clients' strict acquisition criteria, the firm's streamlined transaction processes, and its clients' accessible balance sheet capital enable JRW Realty's buyers to close transactions in 20 to 30 days after going under contract.
About JRW Realty
JRW Realty is a commercial real estate brokerage firm that has closed over $2.8 billion in transactions across over 775 properties on behalf of its clients. JRW Realty's team places special focus on due diligence, reviewing over 100 properties each week and only choosing to source for clients the best 3-4% according to their rigorous acquisition criteria. For more information, visit www.jrwrealty.com.

Multi-Tenant Retail Acquisitions Contact
Joel Staffilino, President - Multi-Tenant Retail
jstaffilino@jrwrealty.com
(513) 227-4502

Single-Tenant Net-Leased Acquisitions Contact
Melinda Marston, President - STNL
CA DRE #01950977
melinda@jrwrealty.com
(626) 696-2910

Media Inquiries
press@jrwrealty.com