JRW Realty Sources and Closes on Publix-Anchored Shopping Center for $19 Million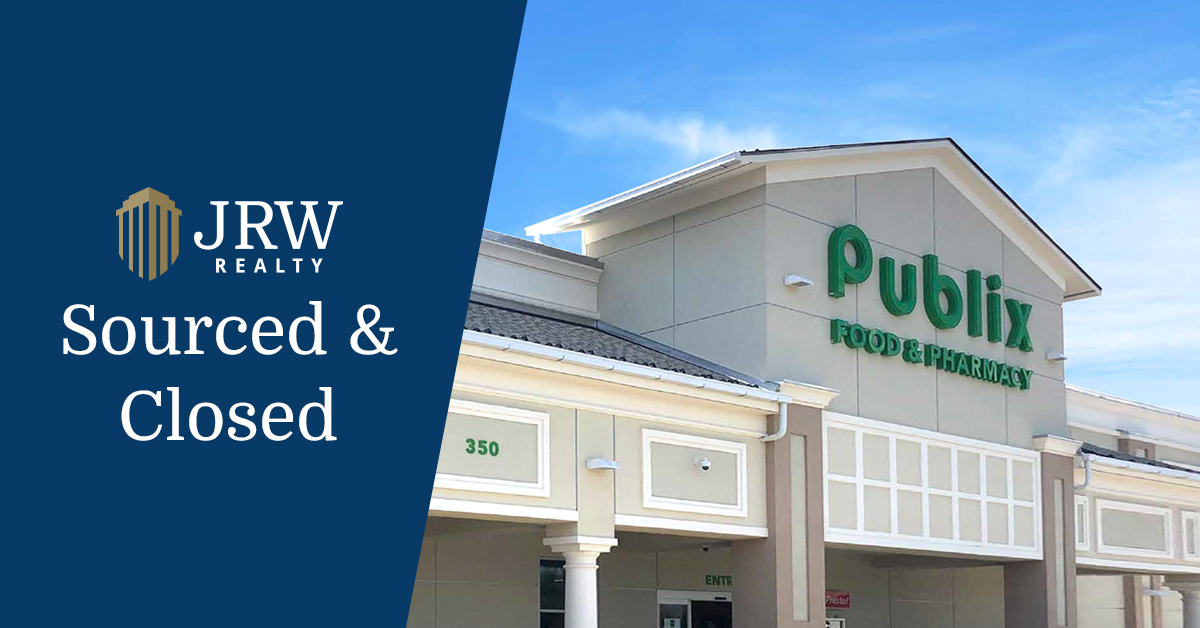 PASADENA, Calif. - JRW Realty is pleased to announce that it has closed a $19 million all-cash transaction for a multi-tenant retail center anchored by Publix Super Markets in Madison, Alabama. The property closed at contract price without a financing contingency in 18 days after going under contract, and is 92% occupied by Publix, Goodwill, ATI Physical Therapy, and other national or regional tenants.

"Our closing so swiftly on this Publix-anchored shopping center is a great example of why our relationship-based approach is central to how we source net-lease-focused real estate for our clients," said Joel Staffilino, JRW Realty's president of multi-tenant retail. "By cultivating new and existing industry relationships and focusing on properties that meet our buyers' rigorous acquisition criteria, we were able to close seamlessly on this $19 million deal in less than 20 days after going under contract. We're really proud of that, and we look forward to more deals like this with JLL, who represented the seller in this transaction."

The retail center meets the acquisition criteria of JRW Realty's exclusive all-cash buyers, who have a strong appetite for acquiring grocery-anchored multi-tenant shopping centers and individual net-leased properties backed by essential businesses with creditworthy metrics. JRW Realty's streamlined closing processes enables its team to close transactions in as short as 30 days after going under contract, and the firm's relationship-based approach to net-lease-focused real estate has enabled JRW Realty to source over 13 million square feet of property for its clients.
About JRW Realty
JRW Realty is a commercial real estate brokerage firm that has closed over $3 billion in transactions across over 825 properties on behalf of its clients. JRW Realty's team places special focus on due diligence, reviewing over 100 properties each week and only choosing to source for clients the best 3-4% according to their rigorous acquisition criteria. For more information, visit www.jrwrealty.com.
Multi-Tenant Retail Acquisitions Contact
Joel Staffilino, President - Multi-Tenant Retail
jstaffilino@jrwrealty.com
(513) 227-4502

Single-Tenant Net Lease Acquisitions Contact
Melinda Marston, President - STNL
CA DRE #01950977
melinda@jrwrealty.com
(626) 696-2910

Media Inquiries
press@jrwrealty.com