JRW Realty's Institutional Buyers Acquire More Than $800 Million of Commercial Property in 2022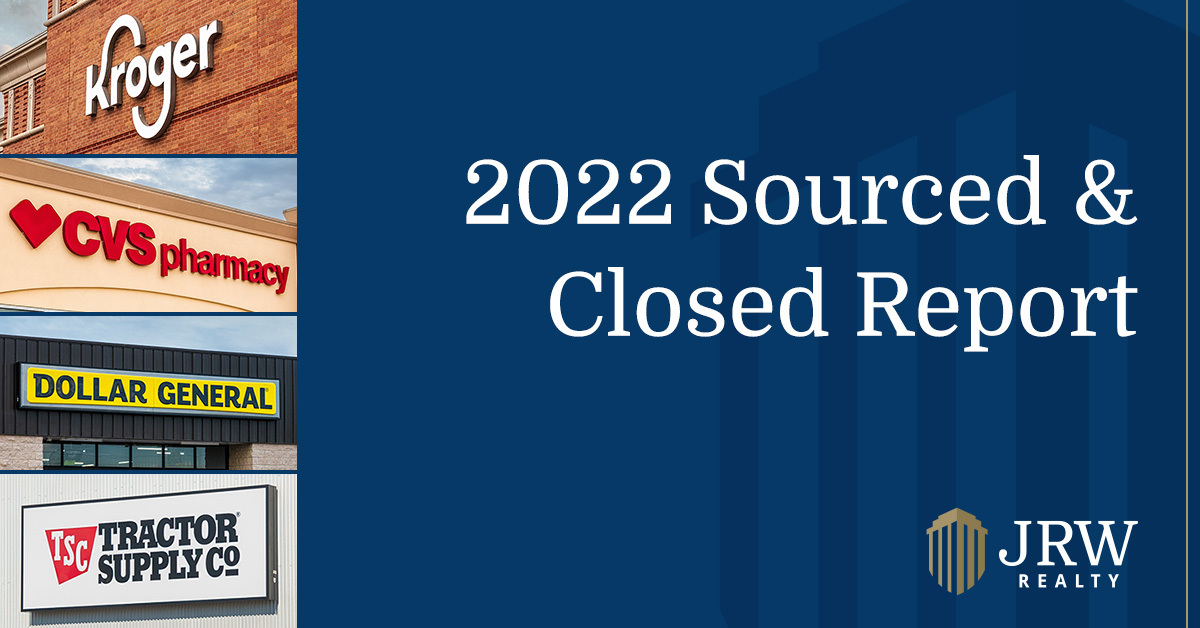 PASADENA, Calif. - JRW Realty, a commercial real estate brokerage that focuses on net-leased properties on behalf of institutional clients, announced that despite inflationary and interest rate challenges, its team sourced and closed 179 properties valued at more than $800 million on behalf of its institutional buyers in 2022, averaging more than $65 million and 15 properties a month.

The vast majority of the 3.3 million square feet of commercial properties that JRW Realty's buyers acquired consists of net-leased properties occupied by high-performing, creditworthy tenants that provide grocery, medical, and other necessity-based goods and services.

Acquisition highlights from the year include six Walmart Neighborhood Market stores in south and central Louisiana, a 90,000-square-foot Mariano's grocery in the Chicago suburb of Northbrook, Illinois, and a $24.75-million ShopRite in Union, New York. Purchase prices throughout the year ranged from $895,000 to $42 million.

In 2022, JRW Realty's clients purchased 75 properties occupied by discount necessity retail stores, with tenants including Dollar General, Family Dollar, and Dollar Tree. JRW Realty's clients also bought 15 properties occupied by grocery tenants, including Walmart Neighborhood Market, ShopRite, Wegmans, Kroger, Aldi, Publix, Mariano's, Giant Company, Market 32, Hannaford, Food Lion, Woods Supermarket, Schnucks, Pick 'n Save, and Price Chopper. CVS and Walgreens make up the majority of the 27 pharmacies acquired.

JRW Realty's buyers also acquired properties tenanted by healthcare providers such as Fresenius Medical Care, auto parts stores such as Advance Auto Parts, banks such as PNC, Huntington, and U.S. Bank, and agricultural supply retailers such as Tractor Supply. Additionally, the company helped its clients purchase 10 multi-tenant shopping centers shadow-anchored by necessity-based retail last year.

"Our success speaks to the financial strength of JRW Realty's exclusive buyers and their understanding of the market," said Melinda Marston, co-president at JRW Realty, "and, of course, to our industry partners who continue to work with us to benefit both our clients and theirs. We're grateful for them and for our tenacious team members who continue to succeed at identifying properties that meet our clients' acquisition standards."

With the help of more than 60 industry partners, each member of JRW Realty's team guided multiple deals to closing in 2022 to successfully meet their buyers' acquisition goals.

"Our clients' streamlined processes, ample balance sheets, and clear acquisition criteria enable them to act decisively when creditworthy opportunities arise, closing deals in as few as 28 days," said Joel Staffilino, co-president at JRW Realty. "We're thankful for everyone who worked with us in making 2022 as successful as it was, even with the significant market challenges we have all faced."

Staffilino and Marston added that JRW Realty's institutional buyers continue to see significant ongoing demand for long-term net-leased properties leased to creditworthy tenants in the necessity retail and healthcare industries in addition to multi-tenant shopping centers anchored by successful and creditworthy grocery tenants.
About JRW Realty
JRW Realty is a commercial real estate brokerage firm that has closed on more than 1,100 properties valued at more than $4.6 billion on behalf of its clients. JRW Realty's team places special focus on due diligence, reviewing over 100 properties each week and only choosing to source for clients the best 3-4% according to their rigorous acquisition criteria. For more information, visit www.jrwrealty.com.
Media Inquiries
press@jrwrealty.com