View Our InterFace Net Lease West Conference Recap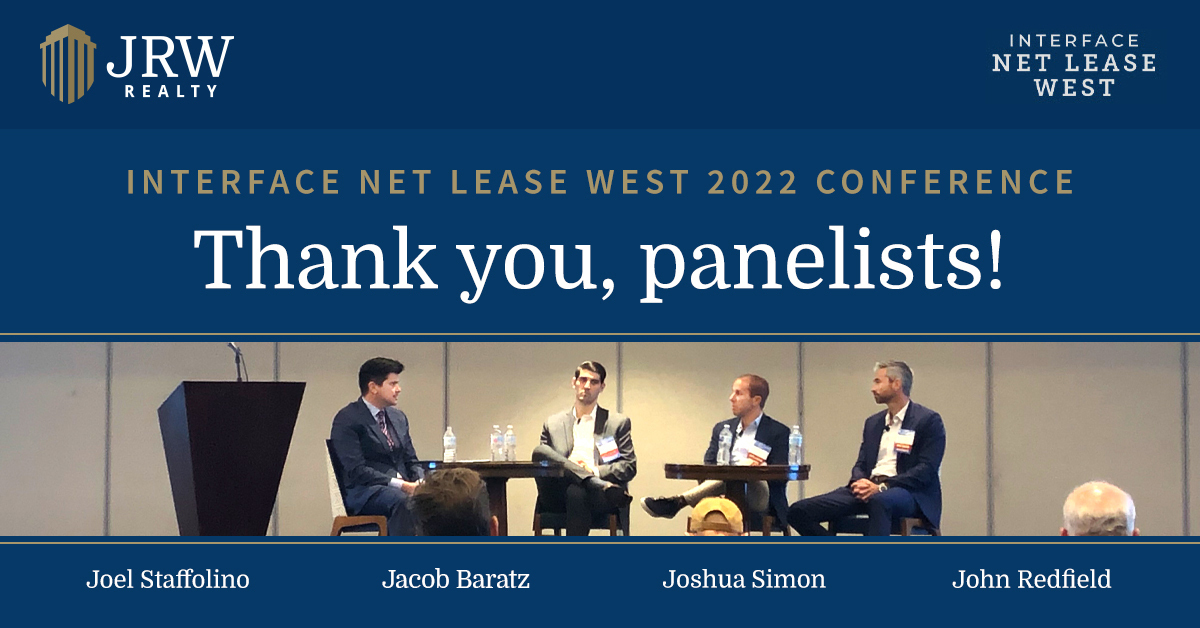 JRW Realty President of Multi-Tenant Retail Joel Staffilino moderated a discussion panel at the 10th Annual Net Lease West Conference at the Omni Los Angeles Hotel on Tuesday, February 22, 2022.
The 50-minute, in person panel was entitled "The Private Client Investment Market: The Market is RED HOT but will this Continue in a Rising Interest Rate Environment?" and focused on strategies on how to navigate current market conditions. Joel was joined on the panel by Jacob Baratz, Vice President of Taylor Street, Joshua Simon, Founder and CEO of SimonCRE and John Redfield, Senior Vice President of the Investment Properties Group and National Net Lease Group at SRS Real Estate Partners.
"The insight and acumen on display was remarkable," Joel said. "The panel's knowledge and experience provided everyone with unique perspectives on how to best serve our clients' interests in the coming months. I'm thrilled and grateful to have been able to moderate this discussion about some of the most important topics in our industry."
JRW Realty Real Estate Associate Nathan Webb attended the session, and said the knowledge was invaluable.
"Any time you can siphon someone's expertise, it can't help but make you better, Nathan said. "I'm glad to have the opportunity to take some of their knowledge with me."